Nasturtium - miraculous killer bacteria
Tropaeolum majus is a plant whose medicinal properties are the most notable .. It is a natural antibiotic that can save us often use synthetic preparations .. In some cases even destroy Staphylococcus aureus!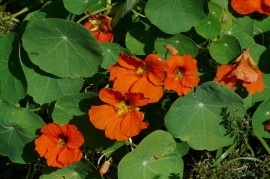 Nasturtium can normally find a plant grown for decoration, often are encountered by the grower does not know that it has a vegetable garden antibiotic.
It's mostly creeping annual plant with bright yellow-orange, sometimes red flowers. It blooms from early summer until the first frost, but nepřestojí and die. Remnants of fruit is often vysemeňuje repeatedly in the same place for another year.'s Very ornate and also amazingly healing ..

Nasturtium is a powerful natural antibiotic
As stated in their literature known herbalist Czech Pavel Vanya, nasturtium active against all 46 strains of Staphylococcus pyogenes aureus, which are frequently responsible for inflammatory diseases of the urinary tract and kidneys. Some healers and physicians use nasturtium recorded successes in the fight with hardly treatable Staphylococcus aureus, which often resist antibiotics and other strong and threatens the health of infected even after many years.
This herb not only destroys Staphylococci are also present such as salmonella or against streptococci. Its use us in many cases can save synthetic antibiotic drugs, or significantly reduce support and treatment of disease.
Nasturtium is suitable to apply to the above mentioned urinary tract and kidneys, as well as such as inflammation of the airways. Its early use of infectious disease can destroy or reduce it in the beginning. It acts as a prevention or is great for after-treatment of previous inflammation with the threat of recurrence.

Against hair loss, dandruff on skin treatment
This herb is often used before against hair loss and dandruff, it can still be found as part of the natural products against these problems.
Fresh juice or tiles from the crushed leaves have antiseptic effect when applied to the skin lesions, which destroys any microorganisms that could lead to inflammation.

Prepare a medicinal nasturtium salad
The indisputable advantage of this plant is that both leaf and flower and fruit (seed) in fresh edible. Leaves and flowers are delicious in a salad for example, have a special spicy flavor, slightly reminiscent of horseradish and watercress. Torn leaves Fresh water wash and slice the thinner slices, flowers can add to the salad whole, are less pronounced taste. Nasturtium salad really adds a unique flavor that you will love the many rapidly. Is also an excellent example in the egg or cheese pomazánce.
The seeds can be eaten fresh from the plant, if we seemed too hot, we can also be added to salads or chopped up as spreads, or bread and butter. Younger, unripe seeds can also be loaded into the vinegar and use it instead of capers.

Use as a tea, tincture or tablet
Nasturtium leaves can also be dried for later use. Infusion of preparing them, which we use in the event of problems such as tea.
In our pharmacies now commonly we get tinctures and tablets with nasturtium extract that are affordable for everyone. Even there are also natural products for the treatment of our pets with the extract of this herb.

Recipe for infusion / tea of nasturtium:
1 heaping teaspoon of dried sawn, cut or 2 teaspoons of fresh leaves, pour a cup of hot water, let it lyes about 10 minutes, strain
- In case of problems we can use 3 times a day, or 1 per day for maintenance

If this ornamental plant already inhabit your garden, do not hesitate to try it - personally recommend nasturtium bread and butter, it's refreshing delicacy healing. If you do not have it in the garden, definitely remember it next year .. with a little care will delight your eyes and body must be grown in larger pot.



-
Use and literature:
Magical Plants - Volvox Globator
Guide herbalist Paul full year


[2007-08-15]
The author Nasturtium - miraculous killer bacteria: Michaela Vorlová