With a variety of extracts from herbs can be found only in plant promote hair growth, but also in other problems associated with hair, either in the form of products for external, but also internal use.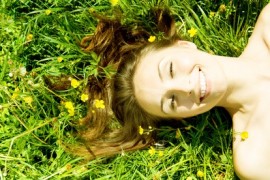 One such active substances carvacrol . This substance is contained in oregánovém oils obtained from oregano . Among other things, this substance is a very powerful antioxidant. For us it is important that a positive effect on the treatment of mold that might occur on the surface of the head. It is known as a powerful natural substance similar effect to some extent the effect of antibiotics acting on bacterial strains that are otherwise very durable.
Other important herbs promote hair growth is horsetail . In cosmetics are among the plants with the highest content of silicic acid. Silicic acid, as its name suggests, contains silicon . It strengthens connective tissue and promotes metabolism of the skin. It is an important ingredient for building skin . It is also a great help in the treatment of acne and impure oily skin. It has an overall cleansing and detoxifying effects on the body.
The internally used substances include cold pressed evening primrose oil from ripe seeds of evening primrose (Oenothera biennis L.). This oil is a source of unsaturated fatty acids, which the body needs for biosynthesis of vital substances, generally referred to as eicosanoids and these substances help maintain the healthy condition of hair and nails.
Other substances in this group are an extract of ginkgo biloba - Ginkgo biloba , which improves blood circulation in a comprehensive manner, thereby stimulating the growth and quality of hair.
The surfactants used substances such as oil, grape seed extract grape ( Vitis vinifera ), which acts only surface without absorbing into the body. Acts on the scalp to the hair roots and protects against degenerative changes that predisposed individuals with hereditary cause thinning and loss of hair.
Externally also from medicinal herbs for hair uses Stinging Nettle (Urtica dioica). Due to the high content of vitamins and minerals are used in the cosmetics industry to produce products that strengthen the skin and hair growth. The stores are common nettle shampoo. As oil for hair is stronger and prevents hair loss. You can prepare a strong decoction for washing hair or wrap.
Also, white birch (Betula pendula) is used in therapeutic preparations. The cosmetic treatment is the drug recommended for hair loss and lupech.
In a series of cosmetic products, essential oils are used, which contain essential oils from medicinal plants. Essential oils of sage, thyme, lemon, lavender contains a balanced blend of essential plant oils that have great effectiveness against hair loss by strengthening hair roots.
The total supply of preparations for beautiful and healthy hair .
Source: www.celostnimedicina.cz
[2011-06-01]
Article Herbs and hair taken from FiftyFifty.cz